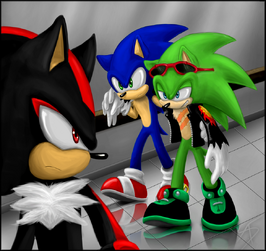 Welcome to Mirrored Mobius
Based off of the Archie comic book series of " Sonic the Hedgehog" Mirrored Mobius is a Role Playing group that was started in February 19th, 2009. The roleplay took off around Sonic the Hedgehog Issue 197 and has since blossomed into an active network of Sonic fans and talented writers. This wikia was created for information on current character development, where the story has gotten to, and any other related information with Mirrored Mobius.
To go to our official forums please click here. Guests will be able to read and see everything that's happening on Mirrored Mobius without properly registering. This allows fans who enjoy the roleplay and our member activities but are not interested in officially joining to keep up with developments.
What we offer...
Flexible Hours. We'll work with you to speed up / slow down the RP to work with your changing schedule.
A structured primary roleplay that aims to keep all characters involved in one way or another.
Active friendly Staff Members. Normally you'll be able to find one of us during the day.
Member input for new in character developments and out of character features.
An open door (No Membership Required!) Social roleplay on the Weekends.
Member Activities to fend off boredom and aid in procrastination.
... and more planned in the coming months.
Interested? Please be sure to read our rules beforeforehand. To ensure you have the ability to post and navigate various roleplaying situations you will be tested in a quick 'mini-role play' session via AIM, e-mail, or Notes. Applicants who are interested but have room for improvement will be approved provided they are willing to be coached by one of our friendly Moderators.
Those interested in joining should contact either Sonic at " ranransonikku" on AIM or e-mail at ranransonikku@aol.com. Alternatively you can contact Dr. Finitevus at " arealscourge " on AIM.
Branches of Mirrored Mobius
Current Wiki Projects
The Story
The World
Major Factions
Community content is available under
CC-BY-SA
unless otherwise noted.